Chronicon PC game by Subworld. Use the magical device known as the Chronicon to travel into the souls and memories of fallen heroes to re-live their grand tales! Epic adventures full of loot and monsters await!
Subworld
Subworld is a one-man independent game studio based in Gothenburg, Sweden.
It has been run since its founding day in summer 2015 by Daniel "Squarebit" Stigsjöö.
Chronicon
Chronicon is the first commercial game developed by Subworld. It was originally meant to be a small rogue-lite game, a yearlong project at the most.
However it rapidly grew into something much, much larger, and after a year and a half of quiet development, Chronicon was submitted to Steam Greenlight as an ARPG.
In no more than 2 weeks, Chronicon was approved by the Steam Community, and was soon released in the Early Access program.
As of writing, Chronicon has been in Early Access for over two years, and not only has it grown monumentally in this period with over 50 updates, but it has also attracted many players who has built a small but great community around the game.
Chronicon is estimated for final release in 2018.
Please note that some game information may be incomplete and subject to change in future updates.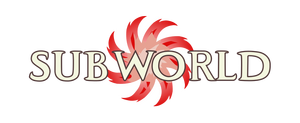 All of the current information on the world of Chronicon. (Work in Progress)
Gameplay
Edit
Chronicon has 4 classes, each with 4 different skill trees with distinctive gameplay or theme. The appearance of the class depends on the number of skill points used in a specific skill tree.
Every class has class specific Items and Item Sets. There are no quests or rewards that are tied to classes.
The classes in Chronicon are:
Templar
Berserker
Warden
Warlock
Items in Chronicon have 6 different tiers: Ordinary, Common, Enchanted, Rare, Unique and Legendary. There is also a tier called True Legendary, which are items that can only drop when you have a character level of 100 and are playing on Legendary difficulty.
Item slots in Chronicon include the following:
Helm
Accessory
Weapon
Off-hand
Chest
Boots
Amulet
Ring
Crafting
Edit
Items can be modified in two ways: Enchantments by Chantie and Gems & Socketing by Gemma.
Enchantments help you reroll and augment your equipment while Socketing will let you reroll the sockets of an item. Gems can be inserted into Sockets for various effects.
Stats are much more than a collection of ratings, they combine to determine how well you attack, defend, stay on your feet, and more. Various items also have stats, which provide modifiers to your character's stats. 
Photos and videos are a great way to add visuals to your wiki. Find videos about your topic by exploring Fandom's Video Library.